ISU Insurance and Investment Group is a local, privately owned independent insurance agency capable of handling all of your insurance needs.
Our independent ownership allows us to provide you with a high level of personal service and to deliver the market's best value through the strength and resources of a national network.
Through the proprietary ISU One Responsible Source™ concept, business owners and individuals have the convenience of purchasing every aspect of their insurance needs from us, a single point of contact.
Our History
Our current owner, Richie Buchanan, began his career as an agent with Marley Insurance Agency, Inc. owned by Tom & Jane Marley in July 2001. Tom and Jane started the agency in 1986 when they purchased Mount Insurance Agency from Paul Mount. The agency operated under the name Marley-Mount Insurance agency for 5 years, then dropped the Mount name.
In 2007, the agency became a member of the ISU Agency Network. The ISU network is an aggregator of independently owned insurance agencies across the country. Member agencies are able to improve their strength by combining premium size, access to insurance companies and sharing of knowledge. By joining ISU network, the agency was required to brand the agency with the ISU name. Marley Insurance Agency, Inc then began doing business as (DBA) ISU Insurance and Investment Group. That same year, Richie Buchanan became part owner in the agency.
In 2010, Marley purchased Young Insurance Agency. Young's prior agency lineage includes, Merry Insurance Agency, Clover-Jones Insurance, Austin-Shields Insurance, and Shields Insurance.
In 2012, Buchanan purchased the remaining shares of the agency from the Tom and Jane Marley to become the sole owner.
In October 2013, the agency acquired Martin Insurance Agency, Inc. Martin began in 1905 and was a 4th generation family owned agency at that time. The 2 agencies were combined into the Martin office location on the south-side of the square in Scottsburg where it still remains.
Why do business with ISU Insurance Group?
Unlike a captive, or direct insurance company who only offers their own proprietary products, our agency is 100% independent of any one company. Many insurance consumers don't fully understand just how important that really is.
When it comes to something as important as insurance, it's imperative that you work with an agency who has an in-depth knowledge of multiple insurance products, companies, and guidelines — not just one.
At the end of the day, what separates one agent from another, is their ability to proactively service their policy holders, and their knowledge of the insurance industry, products, and different situations that may present themselves to their clients.
Independent Agent Vs. The Rest
Here is a quick comparison of the differences between an independent agency like us, and the various other types of companies that are out there: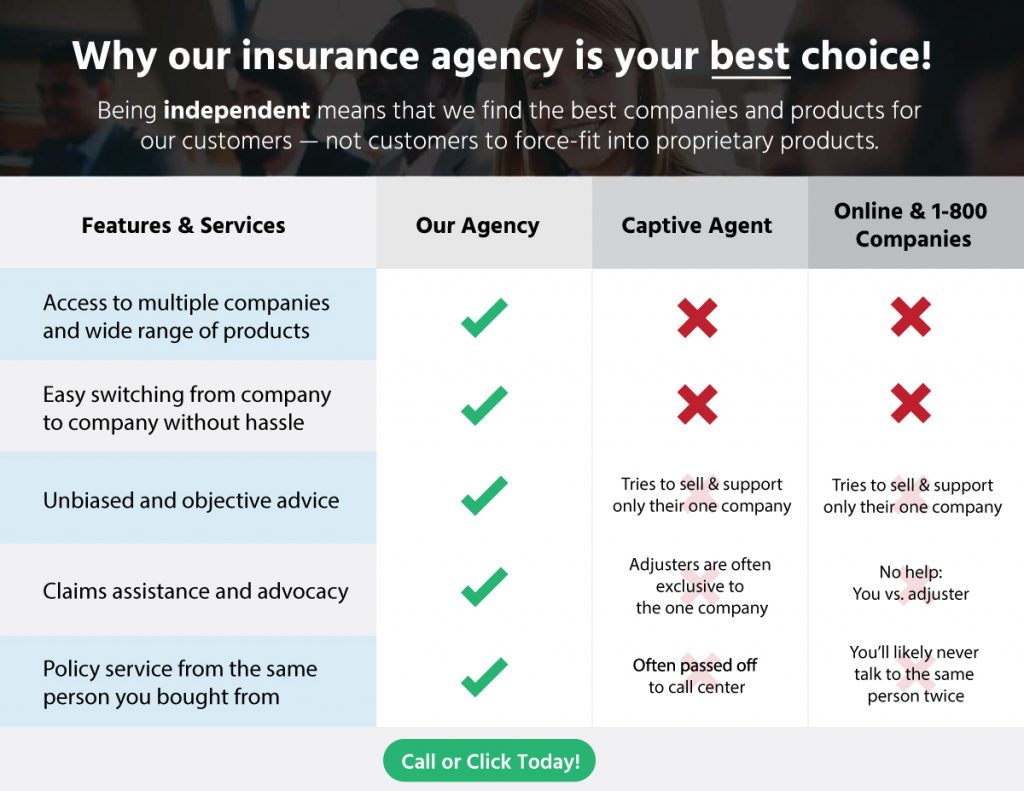 If you'd like to get started with a complimentary quote and/or policy review, we'd be happy to help you any way we can. Simply complete the fields below to get started online in a matter of seconds.
We appreciate the opportunity to help you, and look forward to servicing your insurance needs! Feel free to call us directly if you have more detailed questions.